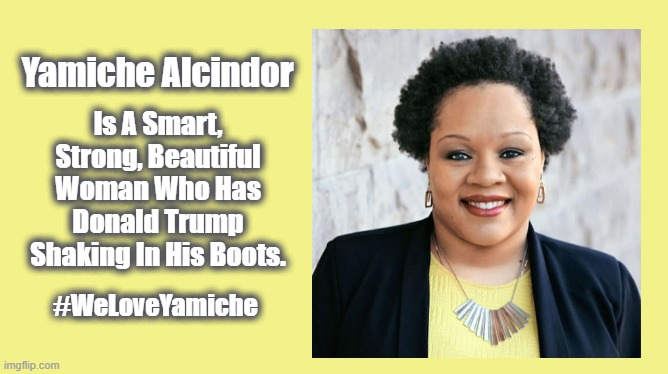 To be white in America is to assume, with total self-confidence and little afterthought, the personal ownership of public spaces. To be white in America is to have the confidence to say, without a second thought: this space, this neighborhood, this city, this county, this country is mine. Myself and those who look like me have the right to decide who can be here, and even what language can be spoken here. It doesn't even have to be intentionally malicious. These assumptions just are. They exist inside the American body.
From the moment black and brown people were imported into this country, not as citizens but as worker bodies, transgressing these "white-owned spaces" — from rail cars to restaurants to whole parts of town — could mean humiliation or persecution or even death. It still can today. What has changed is the scale.
So this is not the first time black women reporters have been publically humiliated and disrespected by Trump and it's probably not going to be the last time because everyone knows black women don't deserve respect.
Crenshaw noted that Trump's attacks on black women are rooted in fear, his own allegiance to patriarchy and an especially toxic brand of masculinity.

"Trump is more vulnerable to them because black women are the political constituency that is the least persuaded by anything he has to say," Crenshaw said. "They know that a vote for Trump is not a vote for the working class because no group is more working class than them. So, it is not surprising that at the very moment people are starting to recognize that black women are onto something, he sets out to undermine their intelligence and professionalism."
This is what happens when there is a lack of diversity in mainstream media.
Despite being in majority-minority cities, the newsrooms of The New York Times and The Wall Street Journal, for instance, are both 81 percent white. The Washington Post is 70 percent white. Minorities make up 72 percent of the population of Los Angeles, but only 33 percent of the Los Angeles Times. According to the Radio Television Digital News Association, the numbers in other media look slightly better, if still not impressive: in 2018, about a quarter of staffers in TV newsrooms are people of color; in radio, it's 11.7 percent. The American Society of Magazine Editors doesn't track racial and ethnic diversity, though its industry's mastheads remain stacked with old white men.
Enough is Enough!
Sherrilyn Ifill, president, and director-counsel of the NAACP Legal Defense and Educational Fund, was not satisfied with the responses.

"Trump's insult of [black female journalists] goes too far. And I will not accept the 'weary with outrage' that is supposed to excuse the failure to stand up and refuse to accept this racist treatment of a professional doing her job," Ifill tweeted. "There are so many serious issues we must confront in the coming days. But we cannot let this pass as business as usual."She came up with a hashtag to continue organizing: #EnoughIsEnough.

The actress Anika Noni Rose tweeted a suggestion:

"Dear news outlets, you want to do something radical and powerful? Next white house press event with the president, only send your Black woman reporters. #IfYouHaveAny."

Michelle Norris, a former colleague at The Washington Post and an NPR reporter, replied: "Please make this happen: a room full of black women . . . gathering information."
What EYE don't understand is why not one of their colleagues stand up for them. Strike that. Yes, EYE do.
It's the media, I won't say stupid, because we aren't stupid, the media just thinks we are stupid.