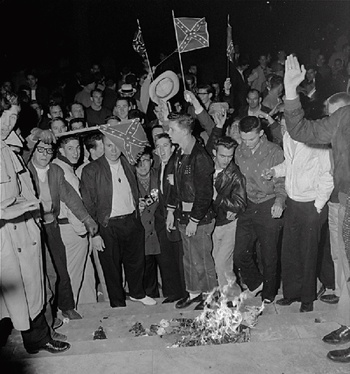 University of Alabama students demonstrate in 1956 against the enrollment of a black student. (Associated Press)
After months of behind closed doors court ordered mediation, the Huntsville School Board and the Department of Justice emerged to claim success.
The Huntsville school board and the U.S. Department of Justice on Monday made public a proposed joint consent order that, if approved by the court, would bring to a close their dispute on the desegregation of the city's schools.




In the order, they tell U.S. District Judge Madeline Haikala that the mediation was a success. The two sides have been in court-ordered mediation since last summer to determine the best way to rezone school zone boundary lines.
Actually this paragraph should read The Huntsville school board made public a proposed joint consent order after a 4 hour Executive Session on Friday disguised as a special call meeting. I guess it depends on what the definition of success IS because from what I've read, nothing has changed.
Let's recap, U.S. District Judge Madeline Haikala ruled the courts could find no evidence the school district was not operating a dual school system. For those who don't know what a dual school system IS, it's a nice way of saying the school district is segregated. For those who don't what segregated means, it means the the district is operating one system for black students, and one system for white students, separate and unequal. Nothing, I repeat nothing, indicates the school district will cease to be segregated.
Judge Haikala slammed the Huntsville School board for their lack of transparency and community input.
And she didn't accept the hurried "community conversations" as adequate community participation in the city's rezoning efforts. She wrote the meetings were held days before the plan was submitted and Wardynski himself acknowledged no changes were made as a result of meeting with the public.


"Thus, the Board provided little opportunity for meaningful community feedback after it announced its school assignment plan."
She accused the school board of trying to undermine the process and dropped the hammer on HCS board member Laurie McCaulley's little "community conversations" masquerading as "a citizens workshop on unitary status" .
Did this school board learn a lesson and change the way they do business? Heck no. They continue to give the judge, and the public they are supposed to serve, the middle finger.
Parents will not have questions answered at three public meetings about Huntsville City Schools new plan to get out of the decades-old desegregation order.


The meetings are scheduled to start this Saturday.




These public meetings were originally called forums but they don't sound anything like a forum.




Parents can share their comments or concerns about the plan with an independent moderator at the meeting.


They can also do it online.


However, the only thing that moderator will do is record the message and give it to both the Justice Department and Huntsville City Schools legal teams.




Both sides will review the statements and decide whether the current agreement should be modified based on parent input.
Sound familiar?
I must give credit where credit is due, I was outfoxed (pun intended) by the Huntsville School Board of mis-education last Thursday. Expecting a large crowd, I arrived at the meeting early in order to get a seat with the intention of signing up to speak. I falsely assumed since the sign up sheet was not in its usual place it was not part of the required protocol. Regular readers are familiar with the boards new policy requiring citizens comments be written on 3x5 index cards (which were available) and censored/read by the Director of Community Engagement. Little did I know, there was a sign up sheet before there wasn't a sign up sheet, which I'm sure was just a coincidence. :)
For the record, nothing has changed, there is no community input, there was no community input, and there will never be any community input if this board can help it. So here's the plan, if they can get their cronies to submit a bunch of statements saying that they like their plan it will look as though a majority of the citizens are in favor of the things that they want. Of course no one else will be able to check out what they submit to verify it's accurate and if is it above board. Nod, nod, wink, wink.
Who says you can't do the same thing over and over and not expect a different result? That's certainly the sentiment of this board, here we go again with a proposed Desegregation Advisory Committee, a 12 member panel, chosen by the Superintendent, and a pair of students, chosen by the Superintendent, to advise the Superintendent and the court of progress. Yeah right. This sounds like the J.O.Johnson naming committee on steroids, and another Coup d'etat to me. it's Deja Voodoo all over again.
Some of us tried to tell some of y'all mediation outside of the public eye was going to turn into a backroom deal that benefited the status quo. Our only HOPE Huntsville City School Schools will cease operating a dual school system lies in the hands of Judge Haikala, where it should have been in the first place, because this board , and this Superintendent ,are determined to ignore the United States Supreme Court.
See picture above.