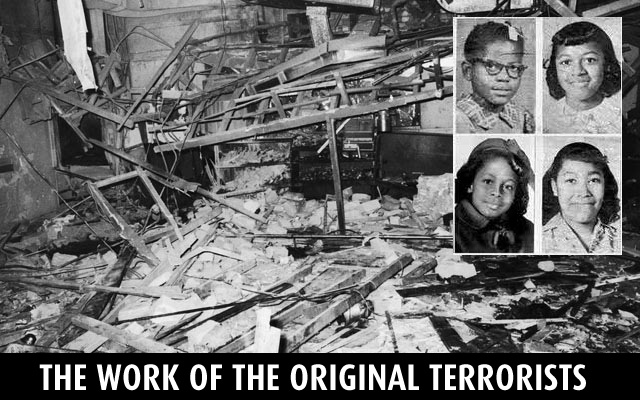 Funerals[edit]

Carole Rosamond Robertson was laid to rest in a private family funeral held on September 17, 1963.[47] Reportedly, Carole's mother, Alpha, had expressly requested her daughter be buried separately from the other victims due to her distress at a remark Martin Luther King had made in which he (King) said the mindset that had allowed the murder of the four girls was the "apathy and complacency" of black people in Alabama.[48]

The service for Carole Rosamond Robertson was held at St. John's African Methodist Episcopal Church. In attendance were 1,600 people. At this service, the Reverend C. E. Thomas addressed the congregation, informing them: "The greatest tribute you can pay to Carole is to be calm, be lovely, be kind, be innocent."[49] Carole Robertson was buried in a blue casket at Shadow Lawn Cemetery.[50]

On September 18, the funeral of the three other girls killed in the bombing was held at the Sixth Avenue Baptist Church. Although no city officials attended this service,[51]present at the girls' funerals were an estimated 800 clergymen of all races. Also present was Dr. Martin Luther King, Jr. In a speech conducted before the burial of the girls, Dr. King addressed an estimated 3,300[52] mourners—including numerous white people—with a speech which included: "This tragic day may cause the white side to come to terms with its conscience. In spite of the darkness of this hour, we must not become bitter ... We must not lose faith in our white brothers. Life is hard. At times as hard as crucible steel, but, today, you do not walk alone."[53]

As the girls' coffins were led to their graves, Dr. King ordered that those present remain solemn and forbid any singing, shouting or demonstrations. These instructions were relayed to the crowd present by a single youth with a bullhorn.[54] At the time of the funerals, two of those critically injured in the bombing were still hospitalized, as was a 16-year-old white teenager named Dennis Robertson, who had been hit on the head with a brick thrown by a black youth as Robertson cycled home from his job.[47][55]
Again, the reason I oppose the republican party has nothing to do with me being a democrat, and I don't oppose republicans just to support democrats. I oppose republicans because the people who perpetrated the 16th Street Baptist Church bombings and other terrorist acts joined the GOP.