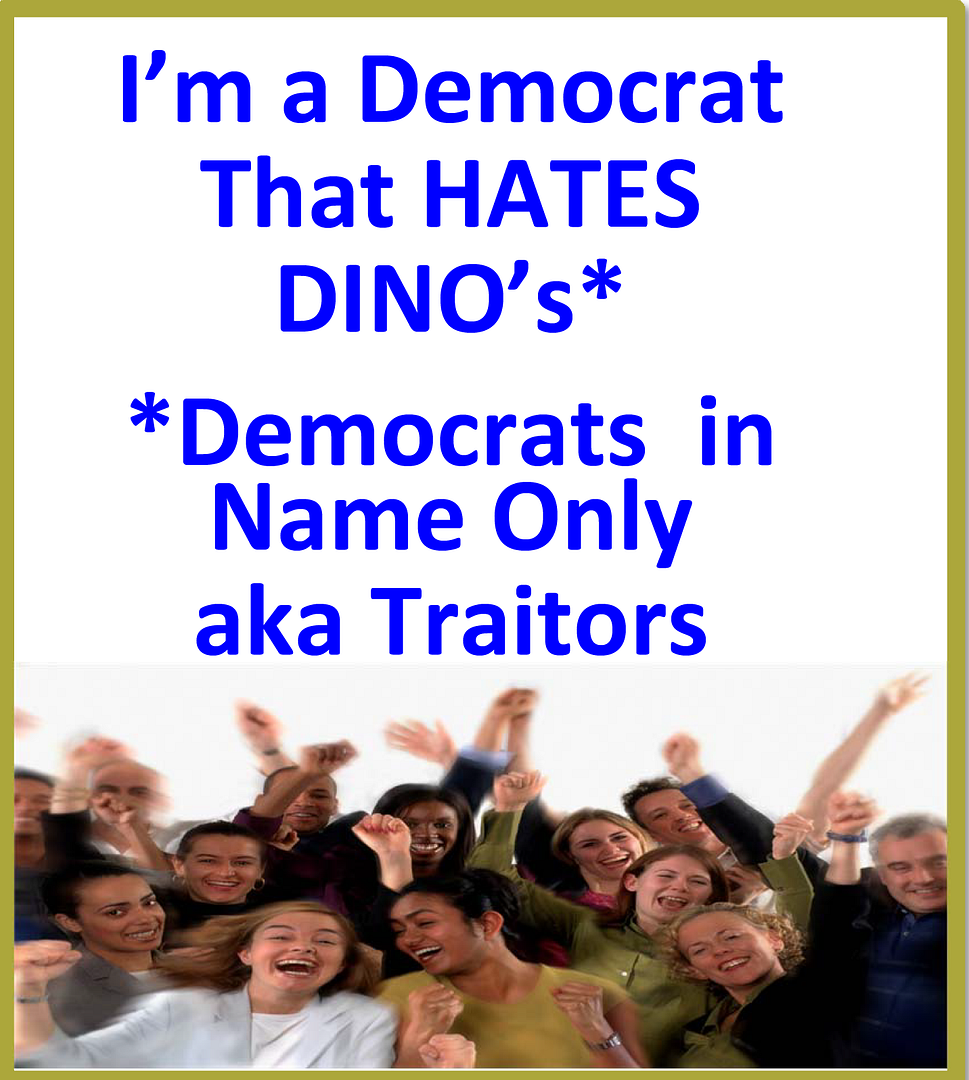 H/T ca democrat via Daily Kos
One Pissed Off Liberal writes:
I'm a Tom Joad democrat, a prison reform democrat, an anti-poverty democrat and a pro-justice democrat - so the party left me a long time ago...and they never looked back as they went chasing after the fat checkbook crowd. The few indisputably good things the party has done, such as the war on poverty and support for the civil rights movement, recede into the distant past as a brave new world emerges in which we are left to wonder just what IS the difference between neocons and neolibs, and whether democrats bombing the world in an unending war orgy is any better than repubs doing the exact same thing.
Today's democrats are yesterday's republicans.
Democrats (not all of them of course, but enough of them) enabled the Bush administration in some of the worst crimes against humanity in modern history: the illegal invasion of Iraq, the shameful atrocities at Abu Ghraib, Bagram, Guantanamo and elsewhere, kidnappings, torture, murders, assassinations, double-taps such as that shown in the Chelsea Manning video and on and on.
Justice delayed is justice denied.
My judgment is especially harsh for the Democratic Party because the whole world looked to them for justice and were denied. Justice is what we owed the world. JUSTICE!


The prospect of a Republican freak out is no excuse for Democrats not pursuing justice. We're always crowing about what a great nation we are – but we can't even manage to bring our own worst and most public in-your-face criminals to justice.
EYE said it once, and EYE say it again. The Democratic party has been infiltrated by reactionary/New Dems/Blue Dogs/ Centrist/Conservadems/Moderates, and hell knows who/what else to promote neo liberal (aka conservative) ideas.
In addition to conservative infiltrators the democratic party has so called "moderates, centrist, center" who try and walk a thin line down the middle of the party. We don't know if they are pro choice or anti choice. We don't know if they are pro civil rights or anti civil rights. We don't know what the heck they stand for. They are in the middle whatever the heck that means. My daddy says the only thing down the middle of the road is a yellow line. Moderates are afraid to take a position one way or another because they don't know what side of the road they are on.
The definition of insanity, doing the same thing over and over again, hoping for a different result.
We're "absolutely unified on three essential messages going forward: It's middle class, middle class, middle class," said Rep. Steve Israel (D-N.Y.), who had just surveyed 90 Democratic members about what they want to see in 2016. "Everybody agreed that it has to be about the middle."
Who the heck is "Everybody" Rep. Steve Isreal, Sir? Blue Dogs and New Dems who vote with the republicans and have no connection to the traditional democratic base? The traditional democratic base they use to get elected, then throw under the bus?
Davis panders to the right, who are wrong about everything, to the detriment of the, as he calls them, democratic base(women,minorities,labor,public school teachers,civil rights leaders,African American political organizations). You know, the traditional democratic base that marched, bleed and died to change Alabama. The traditional democratic base that made it possible for him to be the sitting Congressman from the 7th district (which includes the black belt) of Alabama.
Enough. It's time for real Democrats to stand their ground, and for those who don't support the Democratic platform 100% to go. Those who believe a half an A$$ is better than no A$$ need to find another party. Just because someone say's they are a democrat , doesn't mean they are democrat.
Real democrats are pro equal, civil, and human rights. Real democrats support a woman's right to choose to have a safe legal abortion. Real democrats support public education, public school teachers, and labor. Real democrats support equal rights for LBGT citizens. Real democrats are proud, unashamed, Birkenstock wearing, Hybrid car driving, tree hugging, anti war, anti poverty, card carrying, flag waving, LIBERALS.
What do our opponents mean when they apply to us the label "Liberal?" If by "Liberal" they mean, as they want people to believe, someone who is soft in his policies abroad, who is against local government, and who is unconcerned with the taxpayer's dollar, then the record of this party and its members demonstrate that we are not that kind of "Liberal." But if by a "Liberal" they mean someone who looks ahead and not behind, someone who welcomes new ideas without rigid reactions, someone who cares about the welfare of the people -- their health, their housing, their schools, their jobs, their civil rights, and their civil liberties -- someone who believes we can break through the stalemate and suspicions that grip us in our policies abroad, if that is what they mean by a "Liberal," then I'm proud to say I'm a "Liberal."
If you can't support all of the above, you are with them, and against us.
Independents are really republicans who are ashamed to call themselves republicans.
I'm sick and tired of cowardly Dems.
RedEye Rant Over and Out. For now.